Liquid Phase Electron Microscopy
Our research aims to derive critical structure-property relationships that control the performance of nanoscale electrocatalysts through in situ characterization with electron microscopy and its associated spectroscopic techniques. In particular, we are interested in operando studies where the imaging of catalysts in liquid environments is coupled with concurrent measurements of their reaction kinetics.
This approach will allow us to directly interrogate the structure and composition of these catalysts under reaction conditions and generate insights that can be used to inform the rational design of these nanomaterials. Other areas of interest of the group include: (1) automated image processing of high frame count electron microscope image sequences, (2) advanced image analysis of low quality images acquired at low electron fluences, and (3) the development of multi-modal approaches towards catalyst characterization using methods complementary to electron microscopy.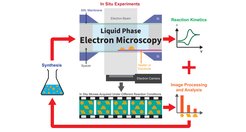 FHI Electron Microscopy Facility
Recent Publications
peer-reviewed
Book Chapters
2023
J. Poon, S.W. Chee, J. Timoshenko and B. Roldan Cuenya
:
Operando Studies of Electrocatalysts for Energy Technology Reactions
. In: Operando Methods in Catalysis and Materials Science. (Eds.):
and
. Willey-VCH, , 11–111 (2023).
Articles
non peer-reviewed
Talks
2023
Liquid Phase Electron Microscopy and Spectroscopy of Electrocatalyst Transformations Under Working Conditions. Workshop on TEM Characterization Techniques Focusing on In-Situ and EELS, Ernst Ruska-Centre for Microscopy and Spectroscopy with Electrons, Forschungszentrum Jülich, Jülich, Germany (2023)
2022
Electrocatalyst Transformations Under Reaction Conditions: Insights From Operando TEM of Well-Controlled Pre-catalysts. 2022 MRS Fall Meeting & Exhibition, Online Event (2022)
Quantitative Insights Into the Structure-Property Relationships in Electrocatalysts Using Electrochemical Cell Transmission Electron Microscopy. Gordon Conference, Liquid Phase Electron Microscopy, Ventura, CA, USA (2022)
2021
Probing the Complex Restructuring of Electrocatalysts Under Reaction Conditions Using Electrochemical Cell Transmission Electron Microscopy. Virtual Vacuum Congress 2021, Online Event (2021)
Understanding Structure-Property Relationships in Nanoparticle Electrocatalysts Through Correlated Electron Microscopies. Microscopy and Microanalysis 2021, Online Event (2021)
2020
Revealing the Dynamics of Electrocatalysts Under Reaction Conditions Using Liquid Phase Electron Microscopy. 3rd International Symposium on Advanced Microscopy and Spectroscopy, Online Event (2020)
Capturing the Dynamic Evolution of Electrocatalysts Under Reaction Conditions With Liquid Phase Electron Microscopy. Conference Electrochemistry undercover, Online Event (2020)
2 Reduction With Liquid Cell Electron Microscopy. Microscopy & Microanalysis 2020 Meeting, Online Event (2020)
Investigating the Behavior of Cu-Based Catalysts During Electrochemical CO
Seeing Catalysts in Action: Opportunities and Challenges With Environmental Cell Electron Microscopy. SEEN 2020: Solutions for Environmental Nanoscopy, Lyon, France (2020)
2019
Direct Observations of Morphology Changes in Copper Nanoparticles During Electrochemical Cycling Using Liquid Cell TEM. 8th Science Day of the Max Planck-EPFL Center for Molecular Nanoscience & Technology, Lausanne, Switzerland (2019)