Operando Hard X-ray Spectroscopy
Synchrotron radiation facilities are powerful X-ray sources that can be employed for numerous experimental techniques, including X-ray spectroscopic, scattering and imaging methods. The features of synchrotron radiation - high intensity and broad energy spectrum - make these sources ideally suited for in-situ and operando investigations of advanced materials.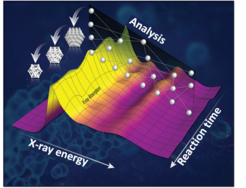 In the focus of our group's research is the application and development of complementary synchrotron radiation techniques (X-ray absorption spectroscopy, high-energy X-ray diffraction coupled with pair distribution function analysis, small-angle X-ray scattering) that provide information about the transformations of catalyst structure on different length and time scales under catalytically relevant conditions.

By combining unique synthesis methods, state-of-the art tools for experimental characterization and advanced approaches to data analysis, atomistic details of chemical and electrochemical reactions at gas/solid and liquid/solid interfaces are revealed, and structure-property relationship in these materials are established.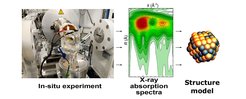 Group Members
Recent Publications
Book Chapters
2023
J. Poon, S.W. Chee, J. Timoshenko and B. Roldan Cuenya
:
Operando Studies of Electrocatalysts for Energy Technology Reactions
. In: Operando Methods in Catalysis and Materials Science. (Eds.):
and
. Willey-VCH, , 11–111 (2023).
Talks
2022
Tracking Dynamics and Heterogeneity in Working Nanocatalysts Using Time Resolved Synchrotron Studies and Machine Learning. FHI-Workshop on Current Research at the Interface of Physics and Chemistry, Potsdam, Germany (2022)
In-Situ/Operando X-ray Absorption Spectroscopy. HZB Photon School 2022, Berlin, Germany (2022)
Basic and Advanced Analysis of Extended X-ray Absorption Fine Structure. HZB Photon School 2022, Berlin, Germany (2022)
2021
Probing Disorder in Nanoparticles Using In-Situ X-ray Absorption Spectroscopy and Machine Learning. E-MRS Spring Meeting 2021, Online Event (2021)
Probing Kinetics of Catalyst Transformations Using Synchrotron-Based Operando Techniques and Machine Learning. 6th International School-Conference on Catalysis for Young Scientists, Catalyst Design: From Molecular to Industrial Level, Online Event (2021)
2 Electroreduction Using Operando XAS. ACS Spring Meeting 2021, Online Event (2021)
Tracking the Structure and Composition of Copper-Based Catalysts for CO
Machine Learning Algorithms for the Analysis of Spectroscopy Data. DGM Training Course, Correlative Materials Characterization, Online Event (2021)
In Situ/Operando Electrocatalyst Characterization by X-Ray Absorption Spectroscopy. Chemical Reviews Virtual Lecture Series, Online Event (2021)
In Situ/Operando X-Ray Absorption Spectroscopy. HZB Photon School 2021, Online Event (2021)
Basic and Advanced Analysis of Extended X-Ray Absorption Fine Structure. HZB Photon School 2021, Online Event (2021)
2020
Reverse Monte Carlo Modelling and Neural Networks in EXAFS Analysis. Advanced XAS Data Analysis and Modeling Virtual Workshop 2020, Online Event (2020)
In-Situ/Operando X-ray Absorption Spectroscopy. HZB Photon School 2020, Berlin, Germany (2020)
2019
Electrochemical Reduction and Brass Formation in Copper-Zinc Nanocatalysts: Deciphering In-Situ EXAFS Data Using Artificial Neural-Network. E-MRS Fall Meeting and Exhibit 2019, Warsaw, Poland (2019)