Operando Hard X-ray Spectroscopy
Synchrotron radiation facilities are powerful X-ray sources that can be employed for numerous experimental techniques, including X-ray spectroscopic, scattering and imaging methods. The features of synchrotron radiation - high intensity and broad energy spectrum - make these sources ideally suited for in-situ and operando investigations of advanced materials.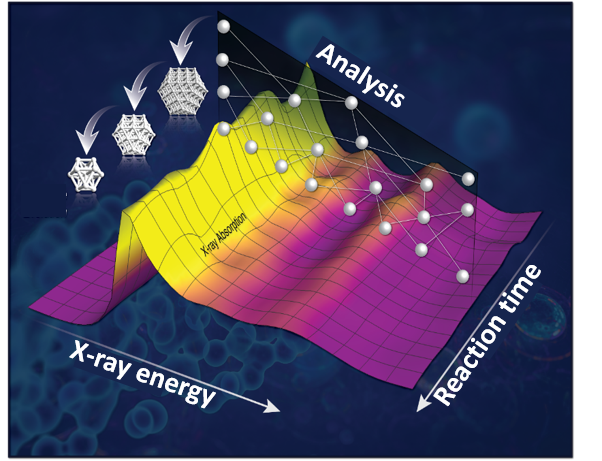 In the focus of our group's research is the application and development of complementary synchrotron radiation techniques (X-ray absorption spectroscopy, high-energy X-ray diffraction coupled with pair distribution function analysis, small-angle X-ray scattering) that provide information about the transformations of catalyst structure on different length and time scales under catalytically relevant conditions.

By combining unique synthesis methods, state-of-the art tools for experimental characterization and advanced approaches to data analysis, atomistic details of chemical and electrochemical reactions at gas/solid and liquid/solid interfaces are revealed, and structure-property relationship in these materials are established.
Group Members
Recent Publications
F. Scholten, , , J. Timoshenko, , , , B. Roldan Cuenya, and
: ,
Electrocatalytic CO2 Reduction on CuOx Nanocubes Tracking the Evolution of Chemical State, Geometric Structure, and Catalytic Selectivity using Operando Spectroscopy
.
Angewandte Chemie International Edition
59
(41), 17974–17983 (2020).
J. Timoshenko and B. Roldan Cuenya
:
In Situ/Operando Electrocatalyst Characterization by X-ray Absorption Spectroscopy
.
Chemical Reviews
, in press.
S. Kunze, P. Grosse, , , , , J. Timoshenko, , , , S.W. Chee and B. Roldan Cuenya
:
Operando NRIXS and XAFS Investigation of Segregation Phenomena in Fe‐Cu and Fe‐Ag Nanoparticle Catalysts during CO2 Electroreduction
.
Angewandte Chemie International Edition
, in press.