Survive your PhD at the Fritz Haber Institute
We are there to help you on your way to the doctorate.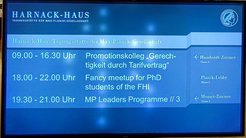 We are the local subgroup of the Max Planck PhD Network and consist of members of the five departments of the FHI. Our goals are to represent all PhD students, help you to settle in and solve problems that may occur. We also want to support the interdepartmental communication of the PhD students by organizing social and educational events.
We suggest that you follow the recommendations to get started as a PhD student at the Fritz that we put together.
If you have questions, problems, suggestions or like to participate in the events please contact us (phdnet@fhi-berlin.mpg.de)!
The MPG PhDnet
Enthusiastic to make your life as PhD students better
Find more information and contact the PhDnet directly
Tweets by maxplanckphdnet
Useful Links
Subscribe to the FHI PhD students mailing list
PhDnet of the MPG
Subscribe to the PhDnet (MPG) mailing list
Local hubs
Max Planck PhDnet Statutes
Constitution of the FHI PhDnet
Guidelines for PhD representatives