Prof. Dr. Robert Schlögl
Former Director of the Department of Inorganic Chemistry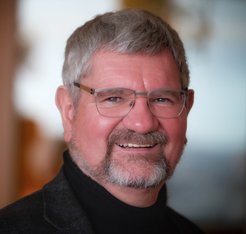 On January 1st, 2023, Prof. Dr. Robert Schlögl became the President of the Alexander von Humboldt Foundation. Robert Schlögl was the director of the Inorganic Chemistry Department of the FHI for 29 years until March 31st, 2023. Now, he is a guest Professor at the Interface Science Department.
Short Biography
Robert Schlögl studied chemistry and completed his PhD on graphite intercalation compounds at the Ludwig Maximilians University in Munich (1982). After postdoctoral stays at Cambridge and Basel he carried out his habilitation under the supervision of Professor Ertl (Nobel Laureate) at the Fritz Haber Institute in Berlin (1989). Later he accepted the call for a Full Professorship of Inorganic Chemistry at Frankfurt University. In 1994 he was appointed to his current position as Director at the Fritz Haber Institute of the Max Planck Society in Berlin. In addition, in 2011 he was appointed Founding Director ot the new Max Planck Institute for Chemical Energy Conversion in Mülheim an der Ruhr.
He is an Honorary Professor at the Technical University Berlin, Humboldt University Berlin, University Duisburg-Essen and Ruhr University Bochum. Robert Schlögl's research focuses primarily on the investigation of heterogeneous catalysts, with the aim to combine fundamental scientific insight with technical applicability as well as on the development of nanochemically-optimized materials for energy storage. The application of knowledge-based heterogeneous catalysis for large-scale chemical energy conversion summarizes his current research focus.
He is the author of more than 1,000 publications, has given more than 450 invited talks and lectures and is registered inventor of more than 20 patent families. He is a Fellow of the Royal Society of Chemistry, Tetelman Fellow and member of numerous international organizations. His research activities have been recognized with numerous national and international awards. In 2022, Robert Schlögl received honorary doctorates from the Universities of Messina and Darmstadt.