Robert Schlögl appointed to National Hydrogen Council
Together with 25 other experts, Prof. Robert Schlögl, Director of the Department of Inorganic Chemistry, will advise the Federal Government on the subject of hydrogen.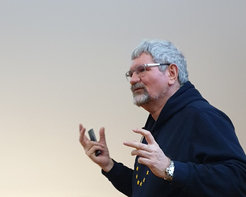 The importance of hydrogen for the so-called 'Energiewende' ("energy transition") has been a hot topic in Germany for quite some time. Last week, the German government has presented the National Hydrogen Strategy (NWS), which will ensure that Germany achieves its climate goals with the help of green energy. "We need a sustainable energy supply from renewable energies if we want to be climate-neutral by 2050," explained Anja Karliczek, Federal Minister of Education and Research, on the day of the decision. "We will further intensify the promotion of research and innovation on green hydrogen: from production, storage, transport and distribution to application."
In addition, the National Hydrogen Council (NWR) was appointed to monitor and further develop the National Hydrogen Strategy. The council consists of 26 high-ranking experts from industry, science and civil society, and its purpose is to advise and support the State Secretary Committee of the Federal Government by making proposals and recommendations for the implementation and further development of the hydrogen strategy.
Prof. Robert Schlögl, Director of the Department of Inorganic Chemistry at the Fritz Haber Institute of the Max Planck Society, and also Managing Director at the Max Planck Institute for Chemical Energy Conversion, was appointed member of the National Hydrogen Council on June 10, 2020. There he will put his scientific expertise to good use by advising the Federal Government on all aspects of hydrogen.
Following the approval of Schlögl's appointment to the committee, the Ministry of Economics stated "the Hydrogen Council, which is extremely important for the successful implementation of the ambitious National Hydrogen Strategy, could soon begin its work".