Electrochemistry
The department has numerous home-built electrochemical set-ups (H- and flow-cell types) to investigate electrochemical reactions. These systems are often coupled to other analytical techniques, such as gas chromatography, for in situ or operando measurements. Below is a description of some of the equipment available.
Online Electrochemical Systems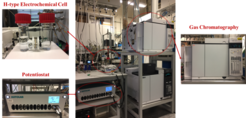 Electrochemical setup designed to identify and quantify the gaseous products during a reaction in real time. Our current online electrochemical systems for product analysis integrate electrochemical cells and product analysis equipment including gas chromatographs.
Potentiostats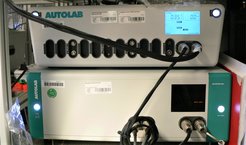 Multiple models of potentiostats with multiple channel detection and booster options are available. Versatile software for data analysis.

Metrohm Autolab PGSTAT302N
BioLogic SP-300
DEMS
Differential Electrochemical Mass Spectrometry (DEMS) combines electrochemical cell experimentation with mass spectrometry.
Gas Chromatography
Gas and liquid chromatography (GC) devices with different analyte detectors are available:
Agilent 7890A for gaseous product analysis.
Liquid GC, Schimadzu GC-2010 Plus with auto-sampler attachment for liquid product analysis.
Both are equipped with thermal Conductivity Detector (TCD) and Flame Ionisation (FID) Detectors.
HPLC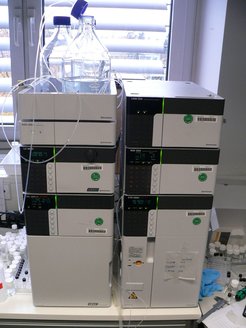 High-performance liquid chromatography (HPLC) for separating, identifying, and quantifying components in electrochemistry.
Electron and Optical Spectroscopy, and Diffraction Methods