New Alexander von Humboldt Research Fellow Joins Institute's Theory Department
Dr. Patricia Poths joins the Theory Department
The Institute's Theory Department has recently welcomed its newest member, Dr. Patricia Poths, who has been awarded a Fellowship for Postdoctoral Researchers by the Humboldt Foundation. Dr. Patricia Poths, hailing from the United States, will contribute her expertise in computational research to the department's ongoing investigations. During her two-year fellow at the institute, she will delve into theoretical research to advance our understanding of catalytic processes.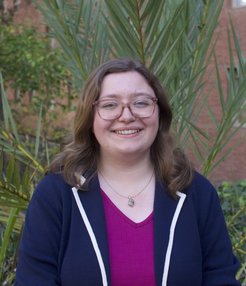 Dr. Patricia Poths' educational journey showcases a global perspective on scientific exploration. Having completed her early education at the Vienna International School in Austria, she continued her academic pursuits at Imperial College London in the United Kingdom. These formative years provided a solid foundation for her future research endeavors.
For her doctoral studies, Dr. Patricia Poths had the privilege of collaborating with Prof. Anastassia N. Alexandrova at the University of California, Los Angeles (UCLA), in the United States. During this time, her research focused on computational investigations into small metallic clusters and their relevance in cluster catalysis. Specifically, she delved into the realistic modeling of sub-nanoclusters on surfaces, aiming to better understand their behavior under catalytically relevant conditions.
Dr. Patricia Poths' outstanding contributions to the scientific community are exemplified by her notable research projects. One crucial aspect of her work involves investigating the role of fluxionality in catalytic processes across a diverse range of cluster catalysts, from Cu(Pd) to Pt4Hx. By exploring the impact of fluxionality, Dr. Patricia Poths aims to uncover valuable insights that can enhance the efficiency and performance of these catalysts.
Moreover, Dr. Patricia Poths has conducted extensive research on the influence of dopants, such as Ge and Sn, in modulating the activity and selectivity of Pt-based ethane dehydrogenation catalysts. By elucidating the underlying mechanisms behind these modulation effects, she strives to contribute to the development of more effective catalysts for ethane dehydrogenation, an important industrial process.
Another critical aspect Dr. Patricia Poths' research focuses on understanding the factors that contribute to catalyst deactivation. Through her investigations, she explores size-dependent sintering effects and examines the intricate interplay between catalyst poisons and promoters. By unraveling the complexities of catalyst deactivation, Dr. Patricia Poths aims to lay the groundwork for the design of more stable and long-lasting catalysts.
She has joined Dr. Sebastian Matera's group on Multiscale Modeling in the Theory Department at the FHI and will be working on adaptive kinetic Monte Carlo modeling with application towards catalyst restructuring and dynamics under relevant reaction conditions.
''I am thrilled to be joining the FHI, and am excited to learn new methods and techniques developed here to help me further my exploration of catalyst dynamics and deactivation."
The Fritz Haber Institute and specially the Theory Department is honored to have her as part of its team and looks forward to the next 2 years.
Every year, the Alexander von Humboldt Foundation enables more than 2,000 researchers from all over the world to spend time conducting research in Germany. So far more than 30,000 fellowships have been awarded across all disciplines to researchers from more than 140 countries worldwide – including 55 Nobel Laureates. In 2020, a total of 955 (out of 3131) applications from researchers from abroad were approved. The Fritz Haber Institute hosted a total of 44 researchers (32 fellows and 12 award winners) in the years from 2016 to 2020. This means that the FHI "hosts" the most Humboldt researchers in Berlin behind the major universities (FU, HU, TU).