Julia Stähler becomes Professor at Humboldt-Universität
The "electron dynamiχ" group leader from the Department of Physical Chemistry was appointed professor by the Humboldt-Universität zu Berlin on April 1st, 2020.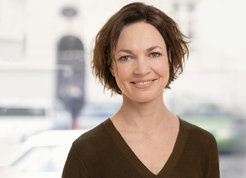 Just in time for the beginning of spring, Julia Stähler has become professor at the Department of Chemistry at HU Berlin. There she will continue and further develop her work on ultrafast elementary processes in complex materials and on their surfaces. Part of this fundamental research is motivated by climate change and other technological key challenges. "Our fight against global warming requires renewable energies, new concepts for energy storage and a strategy for CO2 reduction in our atmosphere," says Stähler. In order to achieve this light must be converted into electrical energy or electrical energy into chemical energy, for example. Such conversion happens very efficiently at the interface of different materials and on ultrafast time scales in the femtosecond range (1 femtosecond = 0.00000000000000001 seconds). With the help of various ultrafast time-resolved spectroscopies, the researchers around Julia Stähler are able to shoot real time 'movies' of such very fast processes. This approach offers new strategies to master current and future technological challenges.
Julia Stähler seeks to combine research with teaching. Ever since the beginning of her career, she has been keen not only to advance science, but to teach it as well. Therefore, she became involved in science communication early on, and received the Klaus Tschira Prize for Achievements in Public Understanding of Sciences in 2008, only one year after her doctorate. "I look forward to being in regular contact with students at Humboldt University and - in addition to imparting sound physico-chemical knowledge and skills - to fostering scientific curiosity," says Stähler enthusiastically.
Prof. Dr. Julia Stähler studied physics at the Free University of Berlin from 1998 to 2004, where she completed her doctorate in 2007. Afterwards she did research at the University of Oxford with a Feodor Lynen Fellowship of the Alexander von Humboldt Foundation. In 2009, Julia Stähler became Group Leader in the Department of Physical Chemistry at the Fritz Haber Institute (FHI) of the Max Planck Society in Berlin. She was also a visiting researcher at the University of Pittsburgh and Columbia University in New York. In 2015, she received funding to establish an Independent Max Planck Research Group at the FHI. One year later she was awarded the Gaede Prize of the German Vacuum Society and the Edith Flanigen Award. Alongside her professorship at the HU Berlin, Stähler will continue her work at the FHI until the research group moves completely to the university.