New MPG Partner Group at Interface Science Department
Dr. Rosa M. Arán Ais from the University of Alicante and Prof. Dr Beatriz Roldán Cuenya, Director of the Interface Science Department of the Fritz Haber Institute have established a new Max Planck Partner Group in the field of electrochemistry.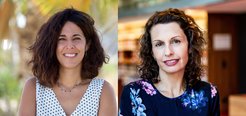 The President of the Max Planck Society (MPG), Prof. Martin Stratmann, appointed Dr. Rosa M. Arán Ais as head of the Partner Group of the Fritz Haber Institute (FHI) at the University of Alicante in Spain by presenting her with a certificate. The Partner Group aims to gain mechanistic insight into electrocatalytic reactions on well-defined bimetallic surfaces at the Institute of Electrochemistry of the University of Alicante.
The MPG and especially the Interface Sciences (ISC) Department at the FHI will support Dr. Arán Ais in developing the Max Planck Partner Group into an active center of the Spanish and international scientific community. Her research plan aims to make a leap forward towards the understanding of the combined role of surface structure and composition of bimetallic Pt-based single crystal electrodes in the performance of selected electrochemical reactions, revealing the key steps of the pathways of the different reactions.
To achieve this, Dr. Arán Ais will use a recently developed methodology to prepare bead single crystal bimetallic electrodes. The synthesis will be followed by an extensive characterization which combines spectroscopy and microscopy techniques carried out quasi in situ, in situ and under operando electrochemical conditions. The ISC Department will contribute its characterization expertise, in particular, using synchrotron-based X-ray methods.
Dr. Rosa M. Arán Ais previously conducted her postdoctoral research stay at the FHI November 2018 until April 2020 within the ISC Department. Prof. Roldán is convinced: "The project has a great potential to lead to fundamental understanding of structure/composition and reactivity correlations in electrochemistry, which might ultimately lead to the rational design of catalysts with improved activity and long-term stability."
The President of the Max Planck Society, Prof. Martin Stratmann, wrote: "The scientific work of Dr. Rosa M. Arán Ais has already gained international recognition and she shall be enabled to continue her successful research as Head of the Max Planck Partner Group."
Becoming a Max Planck Partner will tremendously aid Dr. Arán Ais to develop her own ideas and pursue her own independent research career at the University of Alicante, leading down the road to an independent academic position in Spain.
More than 70 Max Planck Partner Groups exist worldwide. They are a useful instrument in the joint promotion of early career researchers with countries interested in strengthening their research through international cooperation. Partner Groups can be set up with an institute abroad with the proviso that, following a research residency at a Max Planck Institute, outstanding early career researchers return to high-capacity, well-equipped laboratory in their home country and carry out further research on a subject that is also of interest to their previous host institute. The Max Planck Partner Group Program is a highly competitive and person-centered program with the aim of creating career paths for outstanding young researchers. The partner groups are set up for a maximum duration of five years.