Eric Samuel Memorial Scholarship Awarded to Fengli Yang
Fengli Yang, a dedicated PhD student within the Department of Interface Science at the Fritz Haber Institute of the Max Planck Society, has been selected as the recipient of the Eric Samuel Memorial Scholarship by the Microscopy Society of America (MSA).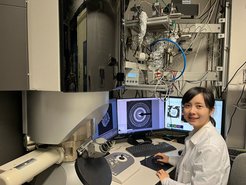 This esteemed scholarship was awarded to Fengli Yang in recognition of her outstanding abstract paper, titled "Tracking the Incorporation of Fe into NiO Electrocatalysts during Reaction with Liquid Phase Electron Microscopy and Time-Resolved Elemental Mapping." The Eric Samuel Memorial Scholarship is designed to support students in attending the annual Microscopy and Microanalysis (M&M) meeting and is granted to those with abstracts displaying innovative approaches to nano-analysis. Generously sponsored by Oxford Instruments, this scholarship made it possible for Fengli Yang to participate in this year's M&M Meeting held in Minneapolis, MN, USA, where she presented her work on July 27th, 2023.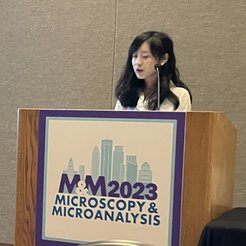 Fengli Yang is currently pursuing her PhD in the Liquid Phase Electron Microscopy group under the guidance of Dr. See Wee Chee. Additionally, we are delighted to share that the paper detailing the presented research has been recently accepted for publication in the Journal of the American Chemical Society.