Faraday Medal for FHI Director
FHI Director Beatriz Roldán Cuenya will be awarded the prestigious Faraday Medal from the Royal Society of chemistry of UK for 2022. She will receive the medal at "Electrochem2022" in Edinburgh this September. In 1987, there was another prior winner from FHI, former director and world-wide electrochemistry leader, Prof. Heinz Gerischer.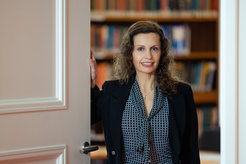 The medal is presented to electrochemists working outside the UK and Ireland in recognition of their outstanding original contributions and innovation as a mid-career researcher in a field of electrochemistry.
This year's "Electrochem conference" will take place at the University of Edinburgh from 4 to 6 September. The awardee will also hold a 50-minute plenary lecture at this occasion.
Further details about this medal and a list of previous winners can be found here.