Multiphase chemistry in cold parts of the atmosphere:Supporting field and modeling scientists with results from X-ray excited photoelectron spectroscopy
AC Seminar
Date:

Nov 18, 2022

Time:

02:30 PM - 04:00 PM (Local Time Germany)

Speaker:

Dr. Thorsten Bartels-Rausch

Paul-Scherrer-Institut, Villigen Schweiz

Location:

ZOOM

Host:

Dr. Hendrik Bluhm

Contact:

bluhm@fhi-berlin.mpg.de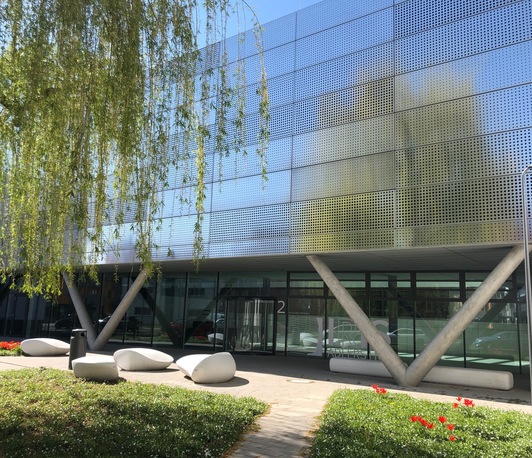 Snow may hold impurity deposits, such as sea salt aerosol, which show vivid chemistry. Snow's porosity guarantees the efficient gas exchange of reaction products with the overlaying air. That snow thus acts as a chemical reactor on Earth with impacts on air quality, climate, and geochemical cycles has long been recognized. X-ray excited electron spectroscopy at near ambient pressure offers the possibility to investigate the underlying processes at surfaces of atmospheric relevance with high sensitivity and chemical specificity. This approach thus fills a unique gap in atmospheric science.Here, I will present the results of our work at the Swiss Light Source tackling 2 seemingly simple questions: 1) At which temperature do aqueous solutions freeze, and 2) How do acidic trace gases dissociate at ice surfaces?
The strategy of the experiments on the freezing point was to probe the phase of sodium chloride–water samples at various positions in the phase diagram. Phase changes were observed in situ by Partial Auger-Meitner electron-yield near-edge X-ray absorption fine structure spectroscopy (NEXAFS) at the Cl K-edge. We find that sodium chloride at the interface of frozen solutions remains as supercooled liquid down to 240 K. This temperature is most typical for the springtime Arctic when chemistry in coastal snow is most active. Below this temperature, hydrohalite precipitates for which we present the first NEXAFS spectrum.

Based on a combination of near ambient pressure X-ray photoelectron spectroscopy (XPS) and NEXAFS spectroscopy we have developed a concept of acid dissociation at the air-ice interface where the formation of solvation shells within the interfacial layer is crucial. I will present experimental results directly showing how deep a number of acids such as formic acid, nitric acid, and hydrochloric acid enter the upper few nanometres of the air–ice interface, to which extent their presence is accompanied by changes to the hydrogen bonding network at the interface, and to which degree the acids dissociate.

While discussing these key questions in atmospheric science, I will detail on technical developments at the end station that were crucial for these experiments and that illustrate possibilities for future research. Demonstration of how these fundamental results find their way via atmospheric one-dimensional models to the global dimension will emphasize the relevance of such fundamental research.

For Zoom, please use this link:
https://hz-b-de.zoom.us/j/86076854563?pwd=THJVejdiWkR0T3l3QlhHUTkrNzljUT09
Meeting ID: 860 7685 4563 Passcode: 028770