Launch of the Catalysis Laboratory CatLab
Live Stream

Date:

Jun 21, 2021

Time:

11:00

Host:

CatLab (Helmholtz-Zentrum Berlin and Max-Planck-Gesellschaft)

Contact:

CatLab2021@helmholtz-berlin.de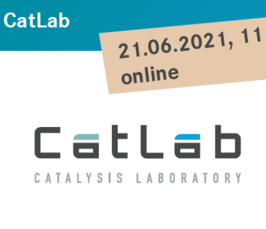 CatLab is set to revolutionize the world of catalysts. We would like to celebrate the launch of this venture together with you. The ceremonial launch of the Catalysis Center CatLab will take place on June 21 from 11 am - 1 pm. The event will be recorded in the lecture hall of HZB-Adlershof and broadcast live online.
The event will be held in German with an English translation.

Helmholtz-Zentrum Berlin and the two Max Planck Institutes, Fritz Haber Institute and Institute for Chemical Energy Conversion are pooling their expertise and establishing the Catalysis Center CatLab together with university and industrial partners.