OPERANDO SPM 2023
15TH AND 16TH NOVEMBER 2023
1st International Conference on Nanoscale Catalysis and Energy Conversion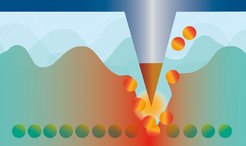 The OPERANDO SPM 2023 conference aims at bringing together scientists, engineers and students with an interest in operando measurement techniques, including scanning probe microscopy (SPM), spectroscopy, and related modelling. The capability to carry out imaging or localized measurements under relevant environmental conditions (in situ) or during chemical reactions (operando) offers immense potential for research in the fields of electrocatalysis, energy conversion and storage, as well as energy materials. Our conference will provide an inspiring environment for discussing cutting-edge topics in electro-/photocatalysis, batteries, and photovoltaics. Leading experts will present the latest advancements in these scientific areas and related in situ / operando measurement techniques for nanoscale analysis of functional interfaces.
We look forward to welcoming students, early career scientists, and experts at the historic Harnack House, the conference venue of the Max Planck Society. Situated in Dahlem, a picturesque district in Berlin, the venue shares its surroundings with prominent research institutions including the Fritz Haber Institute and the Freie Universität Berlin. Join us for a dynamic exchange of ideas and knowledge!
Keynote Lectures
Prof. Takeshi Fukuma, Kanazawa University (JP)

Prof. Núria López, Institute of Chemical Research of Catalonia (ES)

Prof. Beatriz Roldán Cuenya, Fritz Haber Institute of the Max Planck Society (DE)

Prof. Patrick Unwin, University of Warwick (UK)
Invited Speakers
Dr. Jan Balajka, Technical University of Vienna (AT)
Prof. Fengtao Fan, Dalian State Key Laboratory of Catalysis (CN)
Dr. Nicolas Hörmann, Fritz Haber Institute of the Max Planck Society (DE)
Prof. Christine Kranz, University of Ulm (DE)
Prof. Olaf Magnussen, Christian Albrechts University Kiel (DE)
Prof. Frieder Mugele, University of Twente (NL)
Dr. Wei Nie, Helmholtz Center Berlin for Materials and Energy (DE)
Dr. Roger Proksch, Oxford Instruments Asylum Research (US)
Prof. Bernhard Roling, Philipps University of Marburg (DE)
Prof. Wolfgang Schuhmann, Ruhr University Bochum (DE)
Prof. Kislon Voitchovsky, Durham University (UK)
Prof. Stefan Weber,

University of Stuttgart (DE)
Programm
The full program will be published as soon as possible after deadline of abstract submission.
We're pleased to announce that a conference dinner will be part of our upcoming event. More details, including menu options and registration information, will be available soon.
Preliminary schedule can be downloaded here:
Registration
Conference fee
until Oktober 7th: 250 EUR
after Oktober 7th: 300 EUR (for Students and PhD Candidates 250 EUR)
Registration deadline is November 01st
Register Here
The fee covers:
Registration for the Conference
Lunch at the conference site (2 days)
Coffee breaks

Fingerfood and drinks during evening poster session
Abstract Submission
Abstract submission deadline is September 17st, 2023.
Oral contributions will be 20 minutes including 3-5 minutes of questions and discussions.
Poster contributions will be presented during the conference. Award for the best posters will be selected.
Abstracts can be submitted via email to: ospm2023@fhi.mpg.de
Please mention whether you prefer an oral contribution or poster contribution. Please only use the provided template to submit your abstract, which you can download here: