Open Lab Day
In June, the long-awaited internal "Open Lab Day" took place at the institute, offering the service groups, administration, and secretariats the opportunity to get a closer look at the scientific work.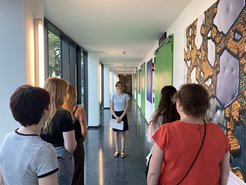 The Physical Chemistry Department kicked off the event by organizing various tours and presentations for their colleagues. Participants had the chance to visit the laboratories and gain detailed insights into the scientific work that typically takes place behind closed doors.
Marcel Krenz led a tour of the institute's cleanroom, where attendees experienced the impressive temperature stability and particle-free air. Marcel Krenz emphasized that the cleanroom is a fundamental requirement for experiments with intense lasers and plays an essential role in physical-chemical research.
Another tour took place in the laser laboratory with Martin Thämer, who presented nonlinear spectroscopy and microscopy using high-energy lasers. Martin Thämer vividly explained how vibrations of individual molecules on surfaces can be visualized through color mixing in laser pulses.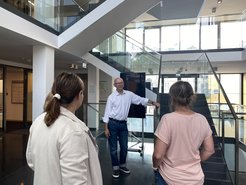 Melanie Müller presented state-of-the-art optics and laser technology with low-temperature scanning tunneling microscopes in the Scanning Tunneling Microscopy Laboratory. Participants learned how individual atoms and molecules can be observed under the microscope and excited with light.
At the X-ray Spectroscopy Laboratory, Tillmann Buttersack, Holger Oertel, and Clemens Richter showcased traditional and new methods for investigating the ocean-air interface. Participants witnessed how various techniques are used to gain insights into this complex system.
Additionally, there was a guided tour where Martin Wolf explained the building's unique architecture. A particular challenge during the building's design was the combination of specialized laboratories, offices, and common areas, which were successfully implemented to the full satisfaction of the institute.
The participants spoke highly of the first "Open Lab Day." The event provided the service groups, administration, and secretariats with a first-hand experience of the scientific work and insights into various research areas and workflows. The presentations and tours were informative and well-organized, allowing employees to directly engage with the researchers and ask questions.
The "Open Lab Day" fostered understanding of the challenges and needs of the laboratory teams and strengthened cooperation between the different departments of the institute. Overall, the event was a valuable opportunity to further enhance the shared goal of delivering research and services at the highest level. We are looking forward to the next "Open Lab Days."