FHI Workshop
New perspectives through larger networks
In mid-May, the two-day FHI Workshop took place, where the Scientific Leadership of the Fritz-Haber-Institut, including the directors, group leaders, and postdocs, gathered for a retreat at Griebnitzsee. The aim of this workshop was to discuss current research projects from the departments, generate new ideas, and foster networking. In addition, an evening trivia quiz was scheduled, providing participants with the opportunity to demonstrate not only their scientific knowledge but also engage in teamwork.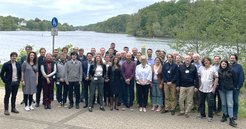 The presentations of the current research projects served as a basis for discussions, where participants expanded their research boundaries and discussed common interests. Synergies were created as different perspectives came together, allowing scientists to contribute their knowledge and experience within a broader context.
Special attention was given to the topic of Artificial Intelligence (AI) in science. Participants shared their insights and discussed ethical and practical implications.
In addition to the scientific discussions, the workshop also provided an opportunity for networking. In their everyday research activities, the approximately 50 scientists operate within their familiar team and work structures, which were disrupted for two days. This facilitated and encouraged open conversations during breaks and dinners, extending beyond the boundaries of departments and research fields.
These new synergies extended beyond the scientific program as well. During a joint trivia quiz, everyone put their knowledge to the test in various categories, once again demonstrating the undeniable advantages of diverse teams.
Overall, it was two successful days marked by intensive professional exchange and diverse collaboration.