Fritz Session digital: The Future of Artificial Intelligence -  talk by Prof. Kate Crawford
September 16 at 15:30, Prof. Kate Crawford will give a talk on the future of artificial intelligence, followed by a discussion and virtual reception. The event is aimed at a scientifically interested audience and will be streamed at http://fritz-sessions.org/.  
Increasingly sophisticated machine learning systems are being developed and deployed around the world, enabling scientific breakthroughs and pervasive surveillance, creating new forms of artistic expression and screening jobseekers. As these systems become embedded into our lives and shape our future, they also become entangled with existing socio-economic structures. Any understanding of what lies ahead must therefore include not only the technical, but also the political.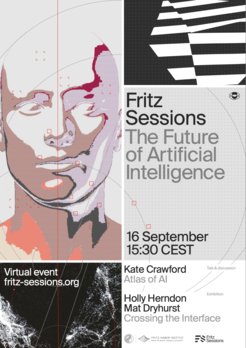 Consequently, this second Fritz Session, titled The Future of Artificial Intelligence, will feature a talk by Prof. Kate Crawford, a leading scholar of the social implications of artificial intelligence, exploring the large-scale deployment of machine learning systems and their intersection with existing systems of power. Crawford is a Research Professor of Communication and Science and Technology Studies at USC Annenberg, a Senior Principal Researcher at Microsoft Research New York, and an Honorary Professor at the University of Sydney. She is the inaugural Visiting Chair for AI and Justice at the École Normale Supérieure in Paris, where she co-leads the international working group on the Foundations of Machine Learning. Her latest book, Atlas of AI: Power, Politics, and the Planetary Costs of Artificial Intelligence has been described as "a fascinating history of data" by the New Yorker, a "timely and urgent contribution" by Science and named one of the best books on technology in 2021 by the Financial Times.
The virtual reception will also include an exhibition of artworks by Holly Herndon and Mat Dryhurst, providing an artistic perspective on the possibilities of machine learning.
The Fritz Sessions are a series of events at the Fritz Haber Institute of the Max Planck Society, organised by a group of PhD students. For these events, which act as institute colloquium, we invite leading experts to discuss topics that will shape the coming decades. These events are open to the public and aimed at a scientifically literate audience, but don't require expert knowledge on their topics.
You can find more information at https://fritz-sessions.org/ai.