Spring Reception 2023
A festive gathering at FHI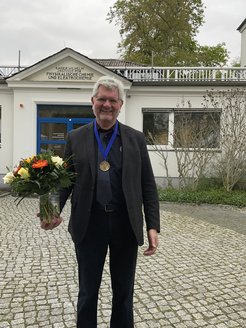 On May 2nd, this year's Spring Reception took place at the Fritz-Haber-Institut. Under the invitation of the Managing Director, colleagues gathered to celebrate a special occasion.
The highlight of the Spring Reception was undoubtedly the ceremonial farewell of former Director of the Department of Inorganic Chemistry, Robert Schlögl. His contribution to research and development at the Fritz-Haber-Institut was acknowledged with heartfelt words and commendatory speeches.
Despite the cool weather, the attendees thoroughly enjoyed the Spring Reception at the Fritz-Haber-Institut. In addition to the culinary delights, they took the opportunity to engage and network in a pleasant atmosphere in front of the Haber Linde on the FHI Campus.