Girls´ Day 2023 at FHI
On 27.04. it was once again time for the girls' day. The colleagues at the Fritz Haber Institute had the pleasure to invite 30 interested girls to a day full of experiments, technology and questions and to introduce different professions in a research institution dealing with areas at the interface of chemistry and physics.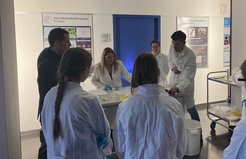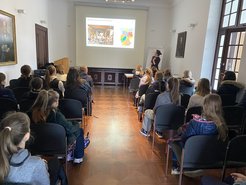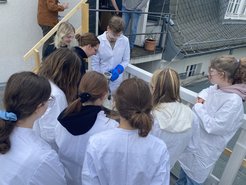 In order to give the girls a good insight into the institute, physicists, chemists, technicians, engineers, laboratory assistants, mechanics and trainees were on hand to answer questions.
At 9 in the morning, Melanie Müller, group leader in the Department of Physical Chemistry, welcomed the girls. She talked to them about the institute and her own career path - how she became a scientist.
Following this, 5 groups were formed, named after Nobel Prize winners in chemistry and physics (Carolyn Bertozzi, Jennifer Doudna, Emmanuelle Charpentier, Andrea Ghez, and Donna Strickland), who took turns experiencing our 5 stations throughout the day.
The three experimental departments - Interface Science, Physical Chemistry, and Molecular Physics - provided explanations of the departments' research and conducted various experiments with the girls. The theory department welcomed the groups into virtual labs and gave a demonstration of how research can look different.
Without the workshops, FHI would not be able to conduct many experiments. The colleagues from the electronics lab and precision engineering guided the participants to the large machines and helped them to build something themselves.
In order to record the newly acquired knowledge, the girls were given a worksheet with two tasks per station, which they answered independently, among themselves or with the help of their colleagues at FHI.
We are grateful for this extraordinary day and look forward to the next Girls' Day in 2024.