The Library at a Glance
About the library
The library of the Fritz Haber Institute is a special library which primarily provides service to the scientists of the institute. The library supports the FHI researchers in all their information needs, providing printing and electronic contents and collects special literature covering the research fields of the institute.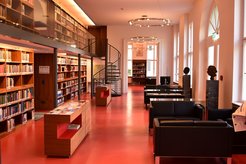 The print collection currently includes about 16,000 monographs in a reading room, which are arranged in a specific classification system. The reading room is designed as a common room for the whole institute. The room is split in three areas: there is a quiet study area available as well as a seminar room for small events, the largest part includes the journal and magazine reading space and the information desk. In this library space the researchers feel free to meet and talk about their research projects in a comfortable and pleasant environment.
The printed holdings (books and journals) can be searched in our online catalog. The stock of 10,000 journal volumes is located in the basement of the library. Additionally there are 25,000 issues located in the departments of the institute. The institute has access to the full texts of more than 30,000 e-journals and 650,000 e-books which were mostly licensed by the Max Planck Society.
The publications of the FHI scientists are collected on the institutional repository of the Max Planck Society, MPG.PuRe. Thereby the institute aims at the deposition of full texts according to the principles of the Berlin Declaration on Open Access.
External Visitors
Users from other institutions can use the reference library by appointment. Please contact the reception desk in Building B.